First weekend
Not that the boat was ready. This was a weekend of maintenance. The boom and gaff had been taken home and varnished. Diagonally, a Clio can stomach quite some length of wood, and so it was that 6 layers, which would otherwise require six consecutive dry days in Conwy, could be put on at home on the landing upstairs.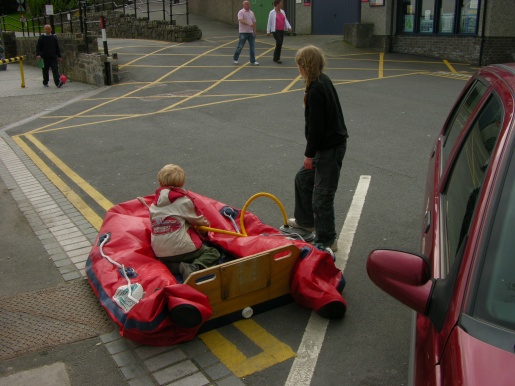 The usual start
The plan was to take the mast down and varnish that in a weekend. Six layers, each requiring 6 hours dry time minimal, depending on outdoor temperature and humidity. Could work: 6 x 6 is 36 hours plus 12 hours removing old varnish, sanding down, 48 hours in a weekend. Working in 6 hour shifts, left us with just the desire for a dry weekend....in Conwy...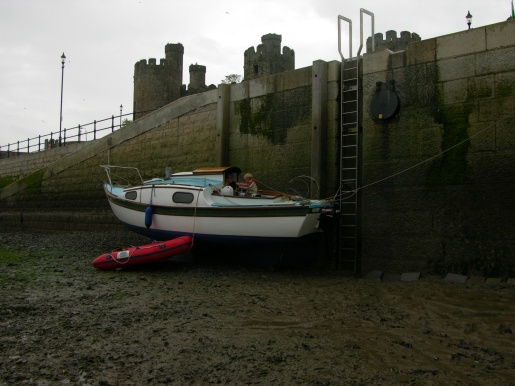 Dismasted and dried out
Saturday was not entirely what one would call a dry day and neither had I consulted the family about the six hour shift business. That put some pressure on the planning.
We were to get as far as possible and then take the 5 meter mast home. Just like the boom and the gaff.
View from the pontoon at night
After drying out along the Quay the kids spend some time playing in the mud, while we worked away at various other unfinished jobs. In the evening, with the tide coming back in we moved Sea Ghost to the pontoon, as this provides a good working platform.
Rowing lessons
The next morning the weather was glorious, and while Geke and I had breakfast in the cockpit, the kids were practicing rowing the dinghy.
At the end of the day, the mast was put in the car and stuck out of the boot, just a bit. It was marked with 2 flags. We decided after spotting the first police car after 2 miles on the A55 to take the country roads. In the middle of nowhere, on a tiny tractor sized country road, we spotted another police car. What followed could easily be written on to a comedy scene: the breaks were hit, car put in reverse into a side lane, leaving a dust cloud behind, turned on a farm yard and direction was changed.
A third police car was spotted just before Wrexham, and which was cleverly avoided and we got home safely. With a tape measure we noticed that the mast stuck just a little under 3.5 meters out of the boot.
Now it was time to varnish some more.