History
It was the summer of 2006, when we were looking for an alternative holiday that the thought for a boat came up for the first time. The plan was to hire a boat, but through various web links, we came to the conclusion that buying one would pay itself back in about 3 years. This was obviously before the word Chandlery was added to my vocabulary.
After searching various boat sites, the search narrowed down on a bilge keel with a gaff rigg (just because I like it) and 4 berths. The choice fell on Sea Ghost, a Westerly 22.
According to Lloyd's register, her first owner, a Mr. J.P.Reid Esq. from Colwyn Bay, ordered her construction on the 21st of January 1964, and she was Lloyds certified on the 4th of May 1964.
She is now moored in Conwy river, only a couple miles from Colwyn Bay.
Vital statistics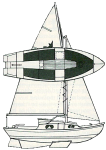 LOA = 6.71m
Beam = 2.30m
Draft = 0.70m
Rig = Gunther
Keel = Twin bilge
Berths = 4