Mast raising
After our adventure taking the mast home, the reverse was required to mast Sea Ghost a sailing boat again. We set out on a Tuesday afternoon and arrived to mount the mast. Sea Ghost was picked up and moored along the fuel jetty to have easy access to the boat. The gaff and boom were positioned. Finally we were going to have a wind vane but the top light could not be mounted as the bolts through the mast head were too short.
Rowing practice
However, we realised slightly too late that the outgoing tide was doing just that: going out, taking most of the water with her which left us stuck for the night. We checked the tide table, and the next morning 06:30 was the last moment to leave the jetty while we were still afloat. I was nominated to do the early morning shift.
At 06:40 we were moored along the pontoon.
Raising the mast
What followed was a pretty miserable day. Miserable in the form of water falling from the sky. We spend the day scrubbing green stuff from cockpit floorboards and the mast was lowered again to correct the way the throat halyard was routed.
At 16:45 we took Seaghost out to C14, but the weather was still miserable and the family refused to come out into the cockpit. Therefore we returned and spend the night on the pontoon.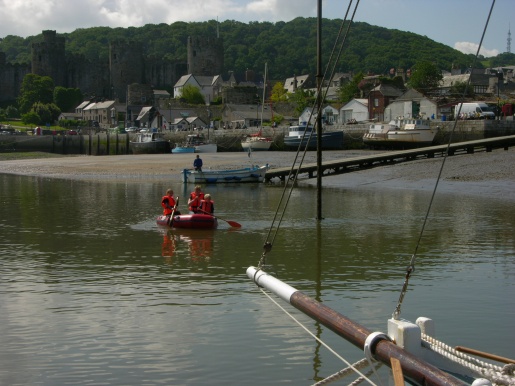 The next morning
The next morning was glorious. At 11:15 we set of on the jib and motor. There was hardly any wind (less than F2 from the East). We sailed for about an hour towards Puffin, but the motor was switched back on again for the last 30 minutes to avoid mutiny before lunch time.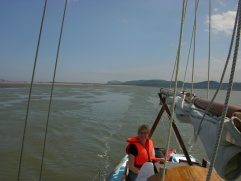 Motoring at very low tide Meryl in the shrouds
The anchor was dropped again along the east shore of Puffin Island (13:30). Shortly afterwards we were visited by a curious seal. After lunch we attempted to sail back to Fairway, but the motor was brought in for assistance again with the wind failing again.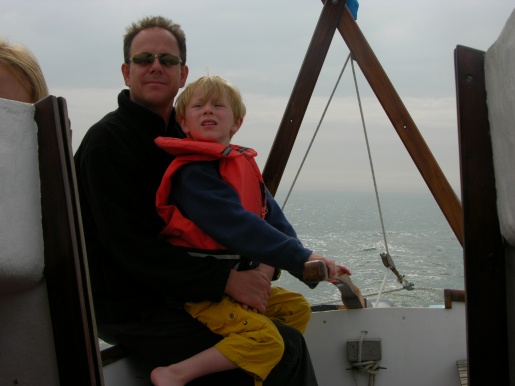 First time at the helm
Timo managed to helm through most of the Conwy channel which I thought was an interesting development for a 5 year old. Geke didn't feel too well, the forecast was more rain and we decided to cut the holiday short to return home.