Maintenance 2011
Thursday 7th and Friday 8th April
The liftout was planned over 2 days because many boats were interested. I had put the outboard inside the boat, out of view during the dark winter months. As I'd preferred to get to the liftout pontoon on my own power, I was kindly dropped off the night before, which gave me ample time to mount the outboard during low water.
Sunset over Conwy Castle
The next morning I motored Seaghost towards the fuel jetty waiting for my turn. Next year I need to get wiser. Seaghost was the 5th boat to be lifted out, which means you end up against the south facing wall, resulting in very little sunshine. boat
Sunday 17th & Monday 18th of April
The weather held out incredibly well this year. the opportunity was therefore there to varnish the wooden streaks and further repaint the deck with anti slip paint.
The job finished
Friday the 22nd of April
Lift in was again spread over 2 days and we were the last group to go in on Friday. The weather was really warm this time and the mood amongst the skippers as usual very helpful.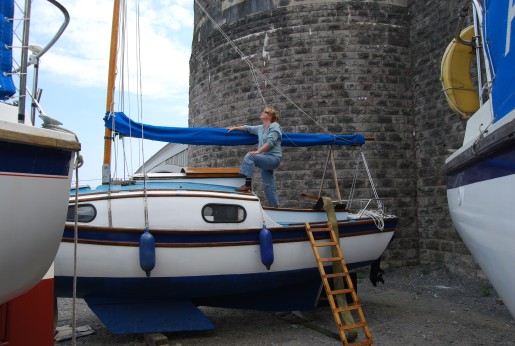 Waiting to be lifted
Terry McMennamin had organised the club lift again and we are genuinely greatful for his effort and 4 days of hard work.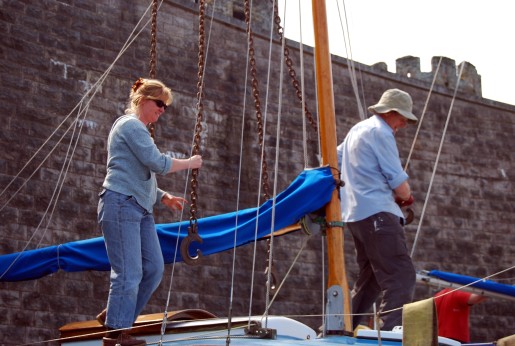 Terry and Geke fixing the lifting straps
After fixing the lifting straps the usual procedure is to guide the yacht with two lines to the fuel jetty where the crane keeps here floating until the skipper seems to relax due to the absense of water inside the boat.
Well in the air
The outboard started without a hitch and off we were to the pontoon.Nothing much was done the rest of the afternoon besides soaking up the sun.
Nearly in the water
As there was quite a wind blowing, we waited to the evening so send Meryl up into the mast to take the peak halyard to through its pulley at the top of the mast. The squeeling sounds coming down when she was up there indicated to us she was enjoying it...I think.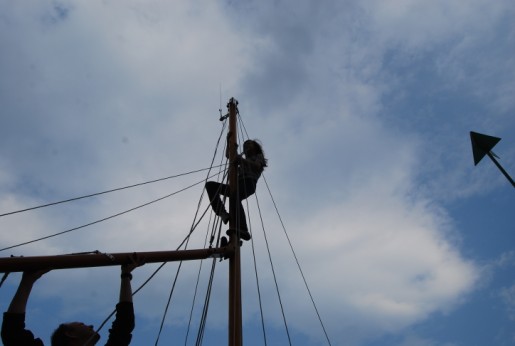 Someone has to do it