Getting soaked
Saturday 16th of July
Due to all kinds of family engagements, it had been a while since we spent a family weekend in Conwy. On a previous visit (30th of May), the outboad failed to pump cooling water and was taken home for repair. Due to the size of the outboard, the size of the car, and the number of passengers, one of us had to take the train. Geke was volunteered.
Arriving in Conwy with Meryl and Timo, there was so much stuff to get onboard that we had to row twice. On the first trip, I sat on top of the outboard. The result was a neat hole in the bottom of the inflatable dinghy, caused by one of the fins. That explained the wet feet then.
Relaxing on the pontoon
Talking about rowing, we seem to be the last Mohecans to manage the 50 yards from the Jetty to the pontoon without the use of an outboard in Conwy. And it is such a good family discipline exercise.
Geke arrived about 45 minutes later. The rest of the Saturday was spent relaxing on the pontoon and enjoying the warmth of the sun.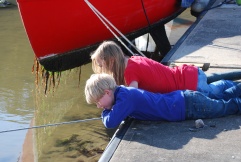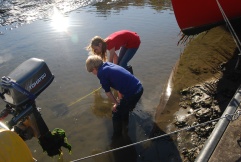 Waiting for a welly height of the tide
Meryl and Timo enjoyed the low tide to catch shrimps, crabs and anything else that failed to escape reach of their nets.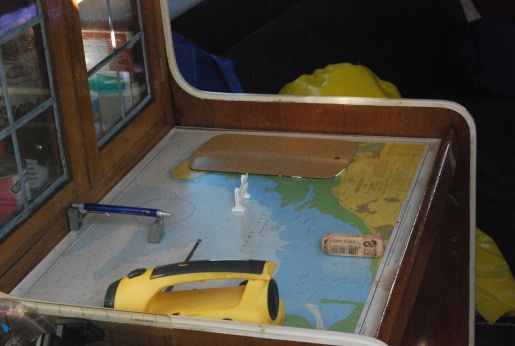 Chart table turned into indoor riding stable
Other time pasture was a new set of play mobile horses who commandeered the chart table and turned it into a miniature jumping ground
Geke ready to cook in the galley
Geke (as usual) cooked a lovely meal which was enjoyed in the cockpit. The fixed door alsp serves a dinner table, its top end clips onto the backend of the cockpit, its bottom end rests on a single leg (don't touch that with 4 plates of dinner just served).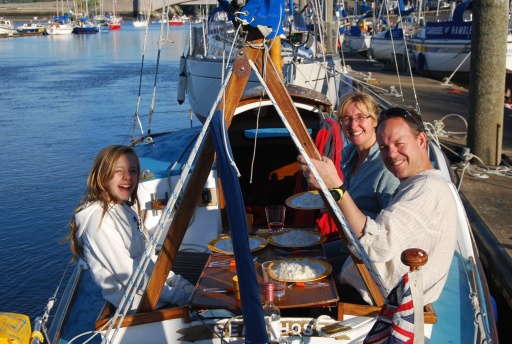 The meal served on the aft deck
While clouds were gathering, a forebode of changing weather, we made an evening walk upstream on the Conwy side just following the tide line below Coed Benarth. The trip was cut short by the onset of rain.
Bad weather gathering above Conwy castle
Sunday the 17th of July
This was a wet day, as in the type were it rains constantly. There was no escape and for the first time we rowed ashore in full wet weather gear. The weather gear is normally left on-board. Some of us got wetter than others because he had outgrown his original PVC dungarees and the parents had failed to provide new ones.
Drenched
Once on the jetty, Geke got the car while I did the usual red turtle impression (carry the dinghy on my back to the storage rack).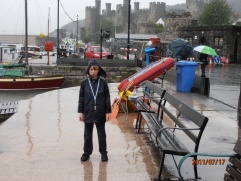 "What do I do next daddy?" "Put all the wet stuff on your back and carry it to the car"
Back home the bannisters were draped with the wet swimming vests and weather gear to dry.