Getting soaked
Saturday 30th of July
As the family was on its traditional summer migration to the Netherlands, it was time for a solo sail weekend. However, the Friday night music sessions in the Cross Keys had taken its toll and it was a late rise on Saturday.
The result was an arrival in Conwy around 17:45.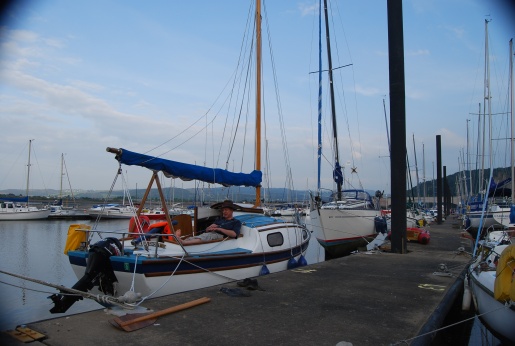 Relaxing on the pontoon
It was therefore a late arrival in Conwy and around 18:30 all was well and settled on-board. The tide lifted Sea Ghost at 19:40 and I thought it was time for a twilight sail.
The weather was calm as it turned out to be just an eveninig motor (sail). The last boats were coming back in and had their navigation lights on. I watched a few float past and then turned in the same direction. At 21:30 Sea Ghost was back on her mooring and we settled for the night.
An evening sail
Sunday 31st of July
The morning was used to do various outstanding maintenance tasks. The coachroof had been leaking and was repaired. Another job never finished was the mounting of the speakers on either side of the cooker. But finally, after 4 years trying various repairs, the heads (toilet), was repaired using spare parts of another equally old toilet. There has been an emotional connection between the toilet and myself since I spend 3 hours with my head in it trying to dismount it and then discovering we are of the same age (1963 said a vague blue stamp).
However, as it is at least twice as much work to use the heads compared to the bucket, (inlet valve open, pump water in, close inlet valve, do your business, open outlet valve, donate contents to the crabs, open inlet valve, pump more water through, close both valves when the bowl appears empty) the bucket remains the family favourite.
Wind and then no wind
The forecast was a F5 from the South, so it could be fairly rough in the Bay. We motored out at 12:20 and I was reluctant to put the sails up at first with Sea Ghost bouncing on the waves. At, what I thought was a calm moment, I put the sails up. It turned out to be long lasting calm moment as from there on, there was no wind.
Slowly floating back
We floated around for a while and turned back to Conwy at 13:00. She was back on her mooring at 13:40. Time to go home.