Tuesday, 12 October
On this glorious day, I took the train at 08:43 in Gobowen to arrive in Conwy at 10:17. On board at 10:45 which is not bad. High water Conwy was at 15:30. At 12:00 Sea Ghost was ready to cast off and we left on the jib and the motor.
Early morning in Conwy
Left obviously at half tide and although it was not a spring, it was still a struggle to get out (the usual squeeze along the Delganwy side). The motor was switched off at 12:35 and we sailed through the North Deep towards Great Orme's Head.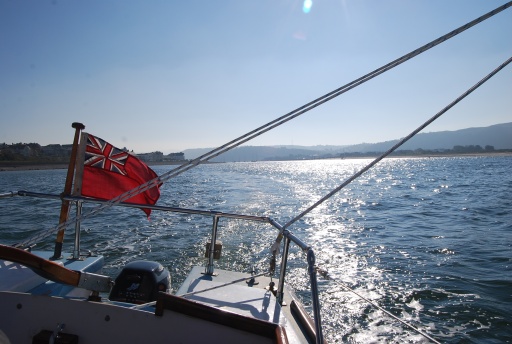 Just outside Conwy harbour
It was a fantastic sunny day. The wind was blowing F4/F5 from the East. Whatever weather we didn't get in the summer arrived in the autumn. The recent trip in September was also blessed with quiet weather.
Penmaenmawr mountains in the background
Turned back just off the Orme's Head and switched the outboard to standby around 13:50. Sailed the into the harbour and dropped the sails 15 minutes later. Back on the mooring at 14:15. No hurry to leave, so had lunch and did a bit of maintenance work.