Saturday, 26th September
Arrival in Conwy around 19:50 and onboard at 20:15. Temperature was only 10°C in the evening with a Northerly wind blowing. I was in for a cold night.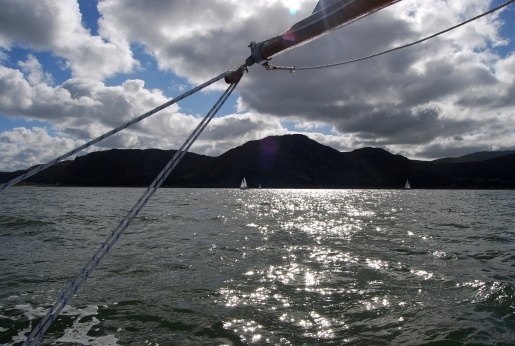 Penmaenmawr mountains
Sunday, 26th September
Woke up at 07:30 to pick up the 07:50 Holyhead forecast: Northerly F3/4, with a slight to moderate sea. High water was at 13:04 at 7.6m. Time to get out.
Plan was to have a relaxing sail towards Puffin. It was 10:30 when the outboard was started and Sea Ghost was cast off at 10:40. Trying to get past the Beacons was a real struggle. The currents were strong. Ok it was half tide 2 days before a spring but I've gone out many times before with this state of the tide. Sea Ghost just squeezed along the Delganwy side. Another yacht appeared to be stuck in the middle of the river and I didn't see them afterwards coming into the bay.
Puffin straight ahead
At 11:10 the sails were up but with little wind, Sea Ghost relied on the outboard until 11:38 around C8. We only made 2 kts towards Puffin, which was too slow to reach it and have lunch on anchor.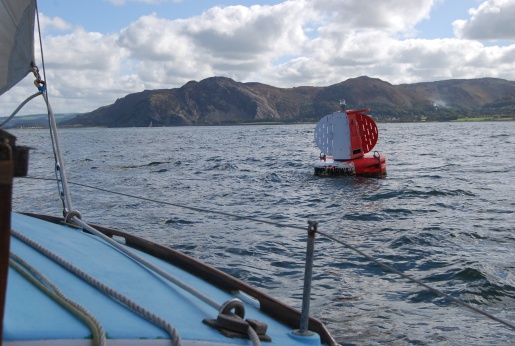 Passing the Fairway buoy
We just passed Fairway at 12:30 and with the wind not picking up (F3 at best), I pointed her back towards Conwy.
Turning into the river Conwy
At 13:10 the engine was switched back on, as Sea Ghost only made 1.6 kts without it. Slight misunderstanding in my brain made me moor with the current, and a quick increase of revs was needed to keep her steering. The second attempt, this time against the current, had a better result and Sea Ghost was moored on starboard at 14:15, having done 8.3 Nm in 3h and 20m.
The return trip on the A55 ended up in the usual traffic jam around St Asaph and country route via Ruthin at least avoided the traffic.