A choppy day, June 27th
Lack of time made us change the plan for the weekend. The Robert Jones & Agnes Hunt Orthopaedic hospital's annual fete required volunteers and I was appointed as one. Optimism had still prevailed that I would be home early to leave Saturday afternoon for Conwy. But by the time X-ray departments open day was over and the bike ride was made home, energy levels somewhat sagged and the plan was made to leave Sunday early.
Carrousel seen from Sea Ghost
We left home at around 09:45 and arrived in Conwy at 10:15. The routine sets in as we arrive and after my usual red turtle impression (carrying the inflatable dinghy on my back to the jetty) we all step in and row the 100 yards or so to the pontoon in harmony.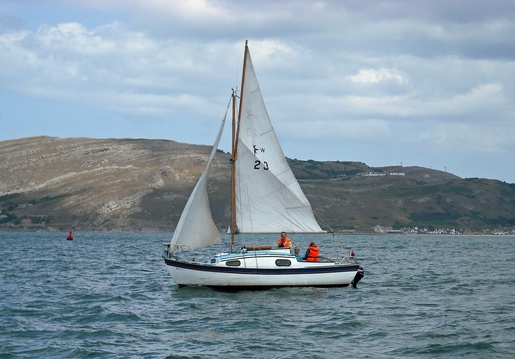 Sea Ghost seen from Carrousel
At 11:09 we were onboard. The 10:50 VHF forecast was SW to S F3 to F4 with occasional F5. Good enough for us. The outboard was started at 11:30 and we motored with the help of the jib towards Conwy Morfa in glorious sunshine and hot weather. At 11:22 we passed Perch and the outboard was switched off.
The main was put up with still the riff in from last time. It took me a while to figure out why the sail could not be raised to its full height, but the luff line was still fixed to bottom of the mast.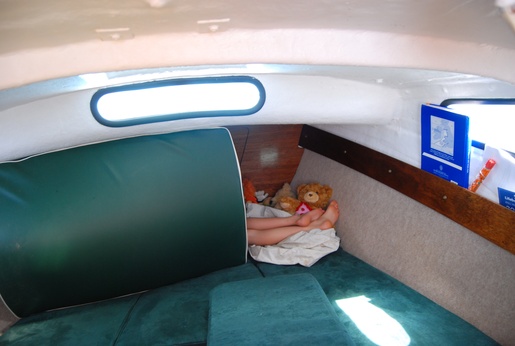 Slightly seasick
We turned towards Puffin, roughly following the channel at High Water. The sea was really confused and the wind even more. One moment we had some good wind, then Sea Ghost seemed to stop completely and just agreed to be a play ball of the waves. Meryl and Timo complaint not feeling well after a while and finally made a den to fall asleep in.
I decided it was time to practice man overboard maneuvers with one of the channel buoys. Our 45 year old life buoy was tossed overboard and quickly sank when towed. Not quite what a potential drownee would be looking forward to see. Maybe we need to upgrade.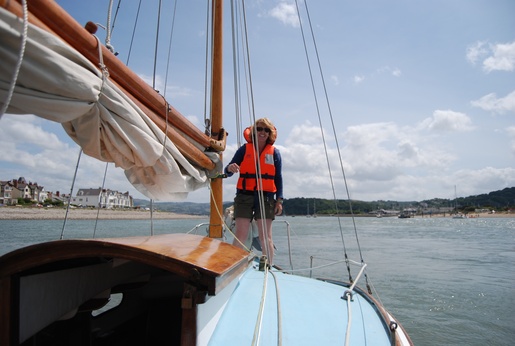 Geke furling the jib
The sea state calmed down during this exercise and we had a good sail back into Conwy all the way up to the marina. Sailing a sailing boat into Conwy river confused most other ships motoring but we weren't the only one trying. Eventually we dropped the sails and moored at 14:30 on the pontoon.
Large catch
Geke cooked tea early as lunch was never requested by the sleeping kids. The reverse of the smooth routine took us back to the jetty. Meryl and Timo disappeared into the favourite toy shop and we met up with Terry's family while the football match between England and Germany was decided in favour of the wrong team.
HMS Pickle