The Old Gaffer, August 8th
As the family was visiting the Netherlands, I decided to spend the weekend on the boat. Arrival was the night before at 20:30 after low water.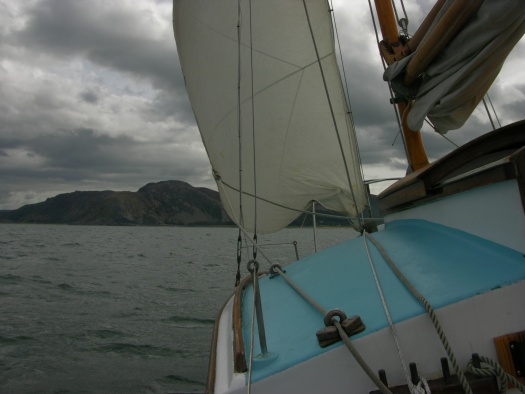 Sailing solo
The next day Sea Ghost left the pontoon at 11:30 to motor to Fairway. As the sea state was moderate and I was sailing single handedly for the 1st time, only the jib was put up after Fairway. Sea Ghost was moored again at 14:30 after covering 9NM.
BBQ on the pontoon
In the evening, with the pontoon dried out and various boats under various angles, a BBQ was organised on the pontoon and I gladly joined in.
August 9th
As this was the 1st weekend of the Conwy festival, the Sunday was reserved for the Old Gaffers race. Sea Ghost nearly qualifies for an Old Gaffer, except for the fact that she is mainly made out of plastic. But out of solidarity, we wanted at least to take a look.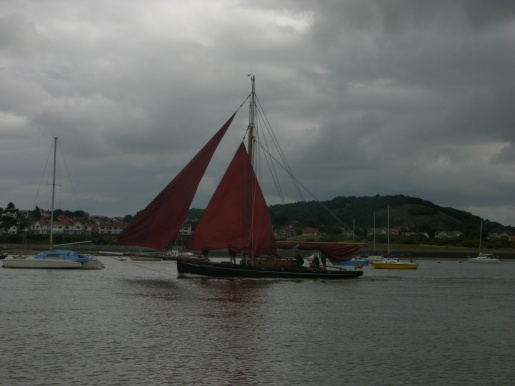 The Old Gaffer race
One by one, the Old Gaffers (motor) sailed past us towards the assigned starting point, which was somewhere off Great Orme's Head. We (I) left the pontoon at 12:05 and at 12:30 we (I) was sailing towards Great Orme's head with the VHF set on to try to understand what a race is all about. I failed.
At around 14:40 we (I) arrived back at the the pontoon, in time to clear things up a bit and return home for work the next day.