Beaumaris weekend, Sept 12th
Summer arrived in September. We picked the first opportunity to go out of Conwy bay for once this year. As the wind was in the wrong corner we decided to head for Beaumaris. We only arrived in the afternoon and cast off at 15:50 to get fresh water. At 16:05 we were on our way.
Twryn Du lighthouse (black cape)
As there was very little wind, the outboard was on the whole trip. We passed Fairway at 17:10 and got to Beaumaris at 19:10, 3 hours after HW.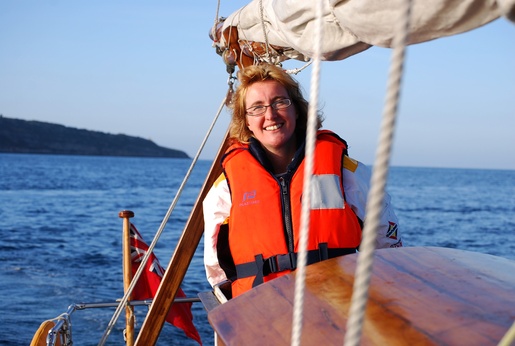 The happy skipper
As it was already relatively late, a family vote was cast in favour for going out for a meal and we had the always fantastic feeling of landing on a foreign shore, albeit it only being Anglesey.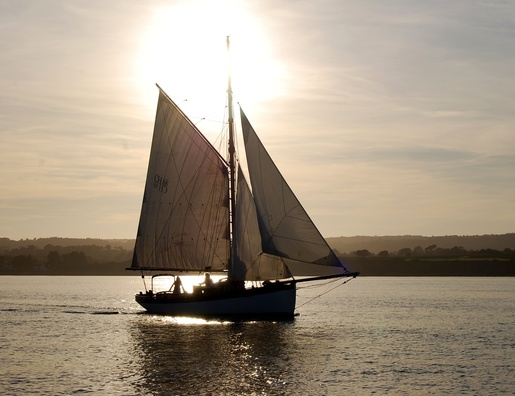 Classic yacht passing us near Beaumaris
After some negotiations, we got a table at the Sailors Return and met Stuart and Robert from Sun Streak, another visitor from Conwy. It was the wellies that gave them away being sailors. And the hat ... oh and the coat.
Around 21:30 we walked back to Sea Ghost, as the tide had gone out and the family was lifted on board leaving their muddy wellies behind.
September 13th
We woke up to a beautiful morning. Mist over the hills in the background, the sound of seagulls and the odd car passing. While at home I can sleep in, these mornings are too good an opportunity for photography and fresh bread from the bakery. The two were combined.
Early morning in Beaumaris
After returning from the shopping trip, we had breakfast in the sunshine prepared to go ashore for our promised visit to Beaumaris Castle.
Family on the wall with mooring in the background
Beaumaris Castle is one of the most exiting castles of Wales, as the walls have corridors, dark damp with lots of places to hide.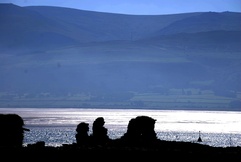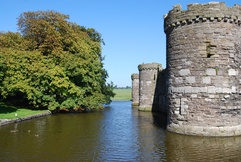 Beaumaris castle view towards Lavan Sands
In the afternoon we made ready for the return trip. We were going to cross Dutchman´s bank, which dries 2.9m, after the tide tables showed we should have around 2.3m of water. However, we had wind and tide against us.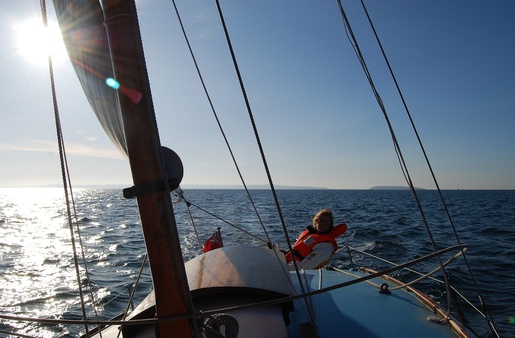 Sailing back
We dropped the mooring at 14:20, estimating to be in Conwy around 18:00. Not quite.
Around 15:00 we asked for help of the outboard, as our attempts to tack up the channel kept us sailing pretty much on the same spot. The wind was an F3-4 from N to NE. It took forever to get to the point where we could turn east over the Dutchman's bank.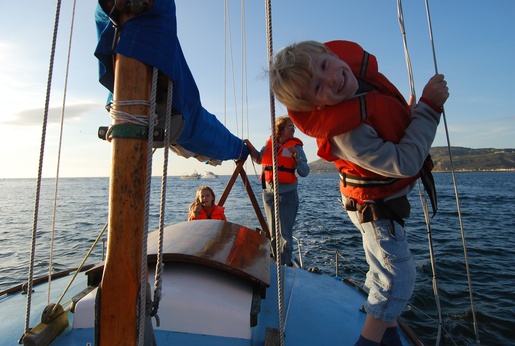 Arriving in Conwy
It was 18:50 by the time we got into Conwy and we moored up at 19:00. It was time for a quick meal in the main street and head home.