Maintenance 2009
On a winter inspection trip on the 15th of January, it came to light that Sea Ghost had lost her rudder. The rudder that was welded on the year before with the famous last words from the welder "that will never come off"
With all the time in the world, I found a local welder, made a new rudder design and tried to arrange for a price indication. The local welder was more of the blanco cheque type, while I had a strong dislike for this approach. In the end, with the invaluable help of Terry McMennamin, who came up with a design and place who could construct it, a rudder was on its way.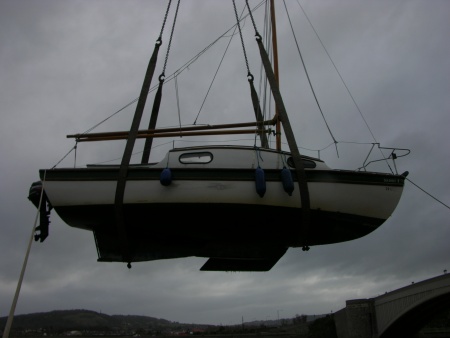 High up in the air
On the 25th of March, the yearly boat lifting took place. With no rudder, I maneuvered Sea Ghost using the outboard to the fuel pontoon before anyone could get there and I had to fight both the current and a queue of yachts in the strong spring tide currents.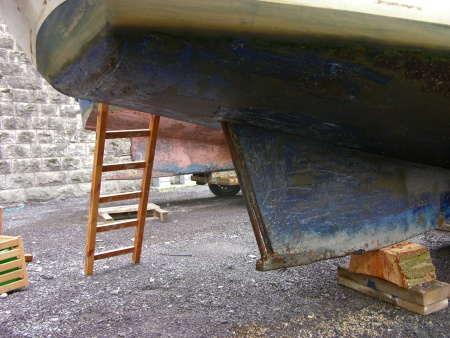 Rudder snapped off clean
This year I was lucky to be allowed a week off work enabling me to do a lot of maintenance work. This resulted in all the woodwork sanded and varnished and the disfunctional toilet dismanteled. It was quite some time ago since I spent 3 hours with my head in the toilet bowl.
The new rudder was picked up, but the tiller end appeared to be held in place with 1 little grub screw which was found to be insufficient and further work had to be arranged on the structure. There you go, even though the no-rudder issue was clear in January, come April and boat was going to be dropped back in without rudder.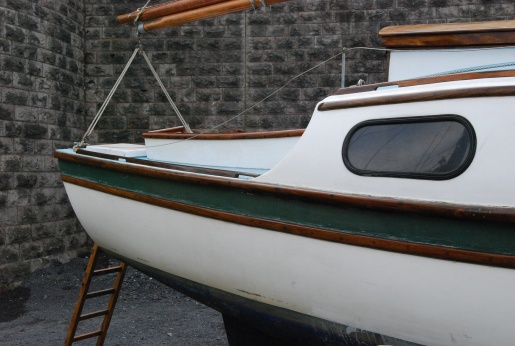 When the work is done
The local boating community is fantastic; any problem you can think off and there are at least 6 retired experienced sailors available for advice, tools and spare parts.
As I could not get time off on the 15th of April, lifting back in and sailing to the new mooring location was done by Geke & Eef with the help of 12 retired men ashore providing instructions, directions and mooring lines.