Conwy Festival week, August 15th
The 15th of August was last weekend of the Conwy festival. As we missed it last year, we were keen to sample what was going on. The quays featured lots of stalls and a fair.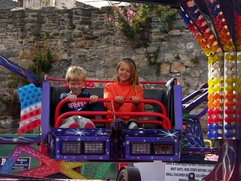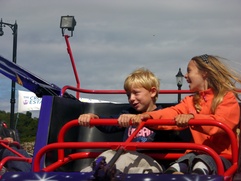 Fancy fair ride
The RLNI displayed a request operation lifting a pretend casualty from a boat in the river. The event was interrupted by dark clouds of rain and we sheltered under the jetty.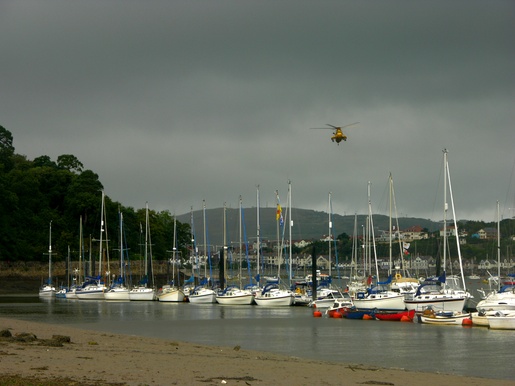 RLNI rescue demonstration
August the 16th
As the weather remained unsettled (F5 and more) we decided to do the land tourist thing. Just above Penmaenmawr are several considerable stone circles which we had never seen. Parking the car on the West slopes of Foel Lus, a beautiful path took us up through fields of blue berries, purple heather and stunning views over Conwy Bay.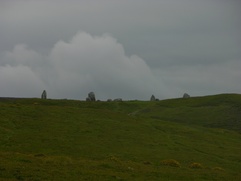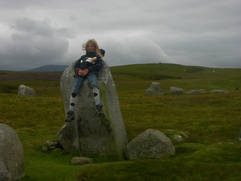 Stone circle
The Druids' circle consists of around 30 stones and stands on the headland of Penmaenmawr, close to a prehistoric track and three other stone circles. It has a portalled entrance consisting of 4 stones may have been raised as early as 3000BC.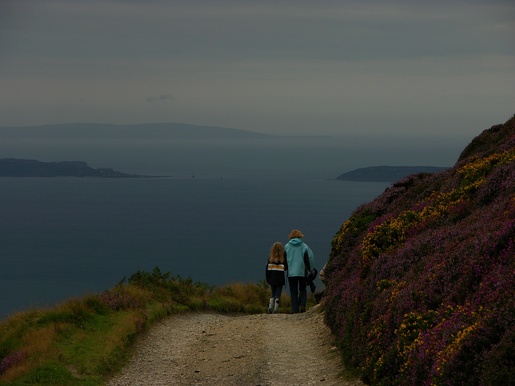 View on Puffin and the Anglesey North Coast
All the time the bay below appear void of boats due to the strong winds.
August the 17th
Part of the morning was spent making a bit of extra pocket money by selling precious stones dug up in the local mud to fellow sailors. There was an amazing interest.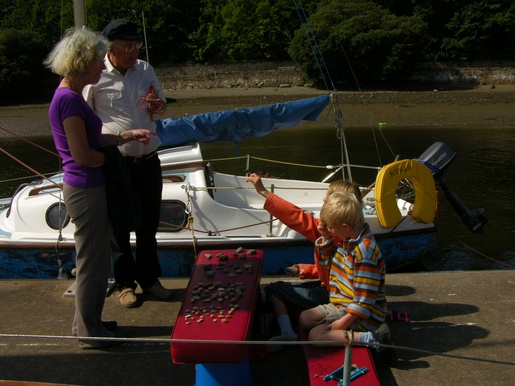 Making pocket money
Despite relatively sunny weather, no gap appeared in the weather where we could make the crossing to Red Wharf Bay and back to Conwy safely. So it was decided to get there by alternative transport, as in the car.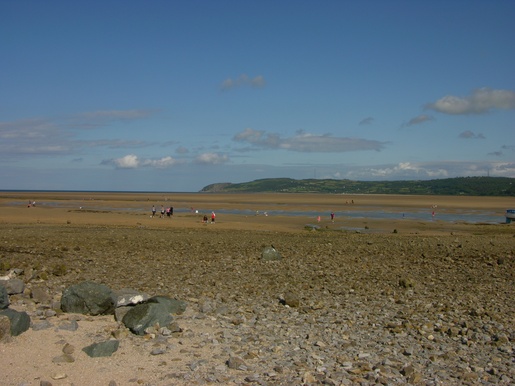 Red Wharf Bay
Red Wharf Bay or Traeth Coch is a wide sandy bay which completely dries. Miles and miles of sand stretch East from the small channel in which you can approach the hotel. That is if you arrive in a boat, using a car I would still advice to use the traditional roads.
August the 18th
As another windy day had arrived, we decided on a day out to Green Wood Forest park, which is an interesting outdoor adventure park with the emphasis on the environment. I've never been in a roller coaster driven entirely by human power.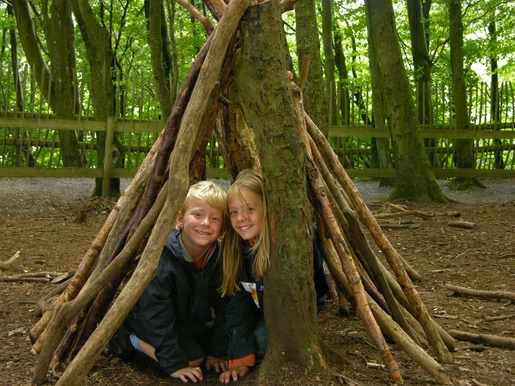 Den building
Another amazing attraction was an area where visitors pay to take off their shoes and walk the BareFoot Trail. This is a 300 meter long pathway on which you are allowed to walk on mud, pebbles, bark, straw and timber.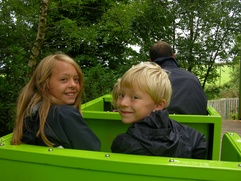 Human powered roller coaster and jungle boat adventure
All in all a successful day.
August the 19th
As the weather persisted in being sail unfriendly, it was decided to go home after a bit of a lie-in.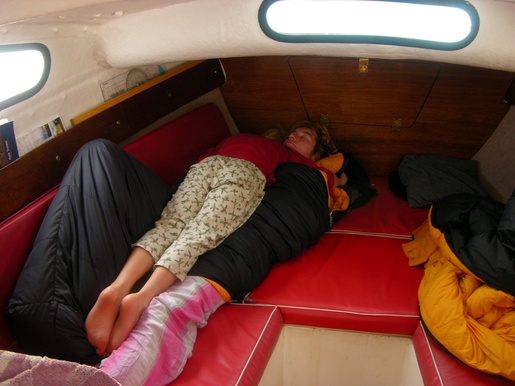 In the morning
We had a short stop at Conwy falls to have lunch and enjoy the slippery slopes towards the waterfall. Access to the river is closed off these days as some tourist wearing slippers killed him or herself on those sharp pointy rocks. Naturally we ignored the warnings, barbed wire and mine field and still enjoyed a good view on the majestic waterfall.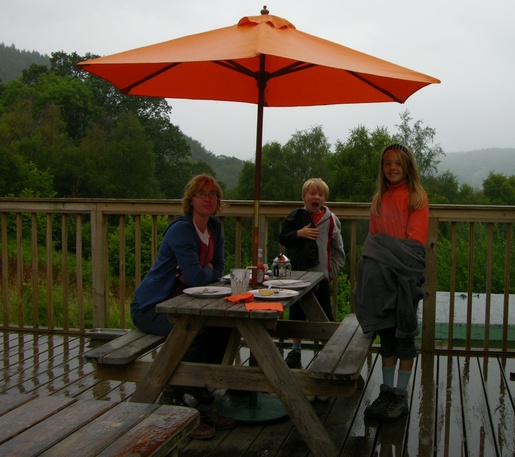 The summer 2009
Traditional rain set in as soon as we reached Snowdonia and our lunch was under what is essentially a large umbrella put up to give the suggestion the sun comes out occasionally.