Empire of the sun, February 2001
You might not believe it after a rather damp autumn, but we choose an absolute glorious day to go out. It will leave behind a totally wrong impression for the rather large proportion of foreigners on this trip and consequently lead to more illegal immigrants trying to squeeze through the channel tunnel to claim asylum based upon ever so disappointing weather in their own country. A therefore irresponsible action on our side, since those who really need it will have an even harder time to state their case. But what can you do?

Resting halfway up with view on Moel Hebog
The mountain we aimed for this time is aptly named Y Garn II (The Cairn, 633 msl). Why Y Garn II you will ask immediately? Well it was actually a strategic move from the Welsh army in Roman times a long long time ago. You see another Y Garn exists more to the North and when the Roman army was challenged for a fight by the Welsh on a Sunday morning at the foot of Y Garn, they showed up at the wrong mountain and the Welsh claimed therefore a victory. This method of winning a battle completely without bloodshed is sadly lost to modern generations.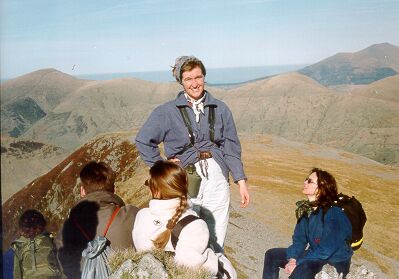 Reached the top with view towards Mynydd Mawr
The groups was on the large side and we split therefore between a black BMW and the usual high speed mini bus. The mini bus arrived 20 minutes before the BMW which clearly displays the quality of the driver (sorry Neil, we will provide paper bags next time in the back).

The climb to Mynydd Drws-y-coed
We used a public footpath from the car park at Rhyd ddu and started to climb as soon as the bottom of the valley was crossed. Y Garn is not terribly high and as soon we arrived one by one at the top, which treated us to a beautiful view across towards the Snowdon range, Anglesey with Caernarfon bay and to the south west Cnicht and the Moelwyns. At this spot one of the more loyal members of our groups was cowardly attacked from behind a sheep wall to in an attempt to produce a novel 3-d sound effect if she would have jumped. She did jump but not far enough. Geoffrey needs more practice.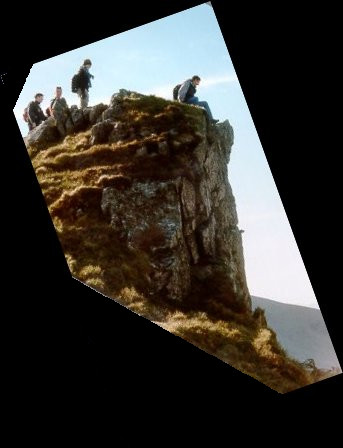 Mynydd Drws-y-coed ... Neils jump?
From here we followed the ridge to Mynydd Drws-y-coed (Door to the wood mountain, 695 msl) where we split up in two groups. I personally guided the group that tried took the easy route to visit some snow fields, the other would go on to Trum y Ddysgl (Ridge of the dish,709 msl). It is a lovely alpine path with a tremendous drop on your right hand side. Our snow fields disappointedly turned out to be ice fields. The sledging project therefore took place at a very different speed, which consequently made the stopping process a bit tricky.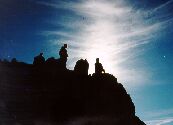 It is always amazing that I manage to end up in the group that says we will do the easy route and then find yourself traversing a scree sloped under 85 degrees. Therefore our shortcut took longer than the other groups longcut and we ended up returning to the van as last. No props, I had the keys.
Back at the Nurseshome in good old Oswestry, a meal was arranged at Moreton Hall, a new place just outside Chirk. A happy ending to a marvellous day.