Dutch cheese mountain, April 2003
It was time again. It was dramatically announced as the last trip for El Geoffrey for while as he was tempted by an attractive female to leave the country. And as time was pressing on his busy schedule, we didn't venture far into Wales. Plan was to visit Craig Rhiwarth . A scarred mountain, drilled by Welshmen in search of valuable stones, with an old settlement on the top.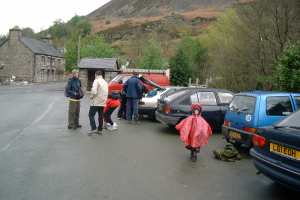 Car park before the walk
There are no official footpaths to the top, and it is therefore not a particularly busy mountain. The easy way to get to the top is going around the back, where a saddle will take you to the settlement. The hard way to get to the top is anywhere else. We tried anywhere else.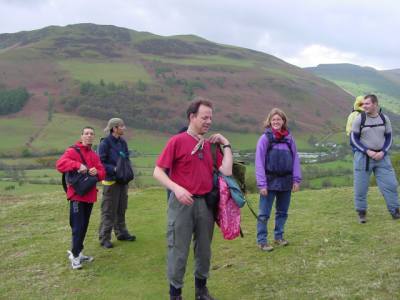 Are we going up or not (Geoffrey with Meryl on his back)
Not everybody had done that before and great care was taken to take everybody safely to the top. We sent two scouts ahead, with whom we caught up just before lunch time. In the scramble up, we all desperately tried to hold onto the a few branches of heather or some loose rock formations.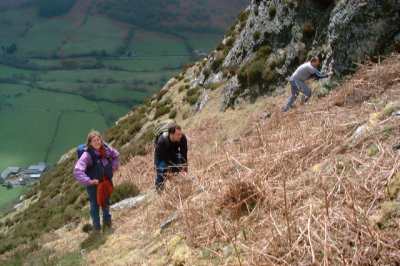 Going straight up
As usual with these non-traditional routes, the views are stunning. Stunningly vertical as well.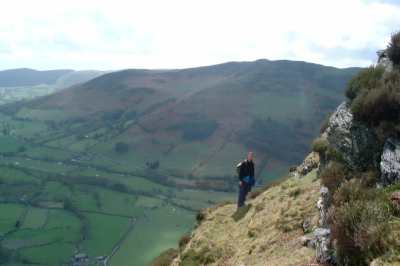 Views opening up
Eventually the slope became less steep, which is usually an indication that the top is within reach.
One by one, we reached a rock formation near the top, where our guides (trained in France and Tunisia) were patiently waiting for us, ready to tell us (in fluent French or broken English) where the easier route actually was.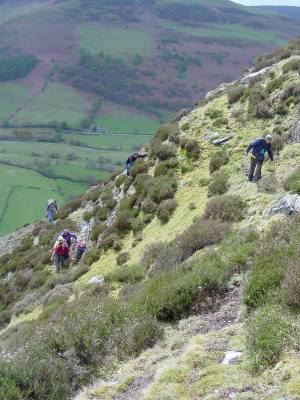 Holding on for dear life
Time for lunch then, and as there was an strong cold wind blowing, we, the weaker species, kept in the shelter of a rock formation. The more experienced among us, including obviously El Geoffrey, sought shelter on the exposed hill top.

Lunch time
Some food experiments were carried out during our lunch, as Mourad offered some interesting serials, directly imported from Tunisia.
After lunch we caught up with the now solidly frozen party on the hill top and we tried to find some stone circles. These are the remains of the old settlement on the top. We crossed the remains of the old stone wall, that used to surround the hill top and walked down the saddle at the back, turning slowly left down the hill side.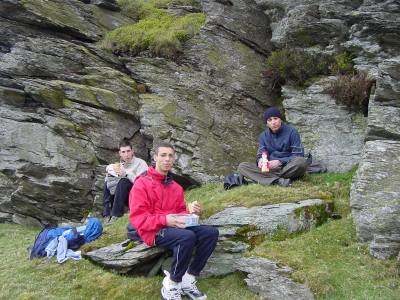 Lunch group 2 (Brice, Mourad and Etienne)
The group scattered as usual, highly influence by individual strength. When I finally caught up with the rest, we thought is was appropriate to make a last group picture, as can be seen below. From left to right :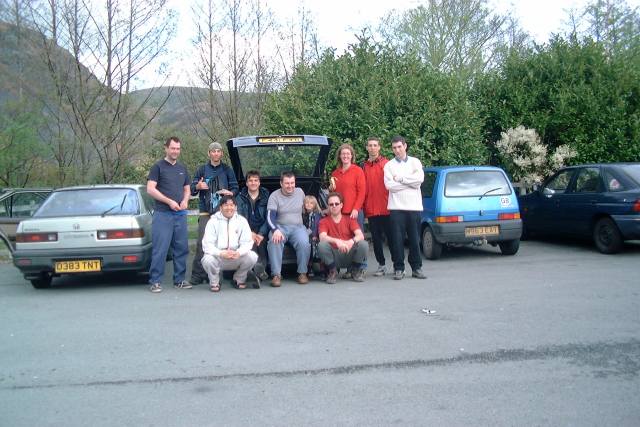 David, Etienne, Tomoki, Keith, Geoffrey, Meryl, Frank, Geke, Mourad & Brice.