One lift makes a crowd
16th September, acclimatising
As real Japanese do, Tomoki woke up early the next morning to take some beautiful picture of the sunrise on the Matterhorn from just outside Zermatt. Obviously, I was still fast asleep, concentrating on my acclimatisation.

The Matterhorn at early morning (foto by Tomoki Takahashi)
Our target for the day was the north east edge of the Matterhorn, as can be seen on the picture in morning glory above. We took a footpath to Hermett guest stübe (2053 msl.) and enjoyed a well deserved rest along with a drink.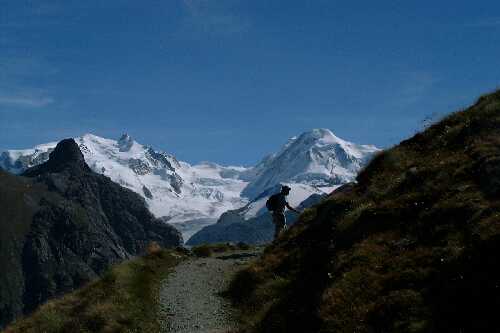 Above Hermett
We climbed up all the way to the Schwarz see (black lake 2583 msl.), where the noise was horrendous from a helicopter flying up and down to provide building materials for the next ski lift. After nearly 1000 meter ascend, we saw women pushing prams around which meant there were either very fit Swiss women in the country or proof of a cable cart nearby. We escaped to the Schwarz see to take in the exquisite view.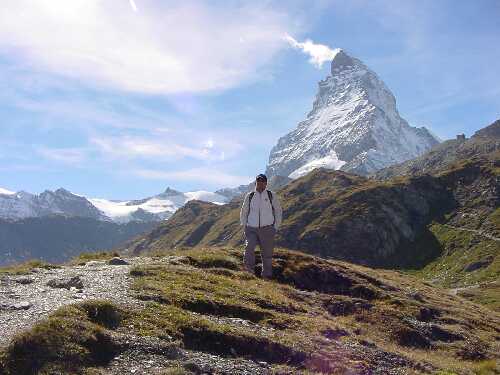 Tomoki (left) and the Matterhorn (right)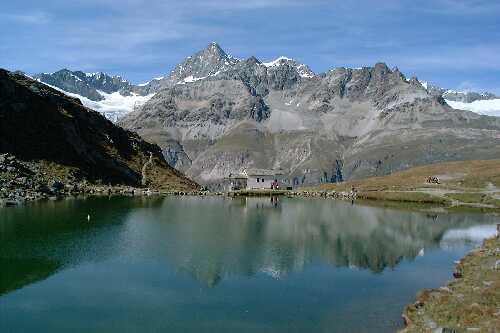 The Schwarzsee
From there we took a path down the Stafel alp on the northern slopes of the Matterhorn into the valley we visited the day before and at the Stafel gasthof enjoyed an ice cream. The way back was long and feet were very soar by the time we reached our tent again. Excellent condition for the next day which would take us up to the Monta Rosa Hutte (2795 msl.).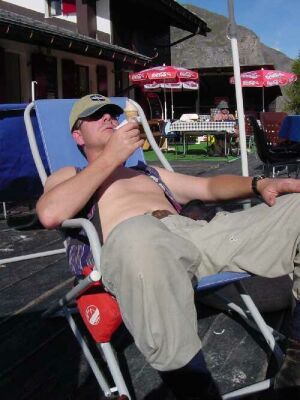 Ice cream at the Stafel alp
Temperatures at night sank clearly below zero and our 3 seasons sleeping bags must have lost a season or 2 somewhere, since even with all serious clothes from my rucksack on it was still cold.
The previous day | next day.