25th Aug 2013
When the women are away, the men have no choice but to fall back on basics. Basics from the olden days when we were hunter gatherers. So we gathered (our gear) and planned to go fishing. In two locations, deliberately, to maximise our chances. Location one could be reached by rowing up-river in a little dinghy. Location two would be found on the wider waters of the sea. We start with location one.
Conwy castle
To assist sheer rowing power, we have a 2 HP outboard, which we fitted on the inflatable dinghy. As the original petrol was nearly gone for some reason, I decided to fill it up with petrol and then then add some motor oil, which is needed in a 2-stroke. The advice is 1:20 ratio. I thought confidently that I could do that by eye. Needless to say, the result was that we appeared to be pushed forward by two semi drowned horses, leaving a trail of smoking bubbles. It appears a horse underwater is not half as efficient as having one in your car. We went up river very slowly and this was just as well, as the next challenge were the wave(lets).
It is worth noting that a dinghy floats, but only just above the water. It is therefore not difficult for waves to climb on board and the first splash left us both with wet bums and slowly soaking feet. We motored and rowed under the bridges into the widening estuary to find a quiet spot. The plan was to switch of the outboard and paddle around, in order not to scare the fishies. That plan didn't quite work as the same stretch of river is used by speed maniacs, pulled by herds of horses. It was scary, because we felt small and insignificant and chances were that, if we were not hit directly by a speeding gin palace, we could simply be rolled over by its wake.
Firstly we thought the RLNI came to the rescue. We waved at them and they waved back. It could be that they were practising. Next the harbour master came out, stopped one of the speedofiles with a few firm words, and then asked if we were OK. I guess the sight of someone rowing these days, without assistance of a 50 HP outboard, must be a sign of trouble. The attention was appreciated though.
But no fish.
Multi tasking, 26th Aug 2013
We woke up to a very quiet bank holiday morning. After a promised ice cream we set off at 12:00 (3 hours before HW) with the plan to sail towards Puffin and catch all those fishies we didn't find the day before.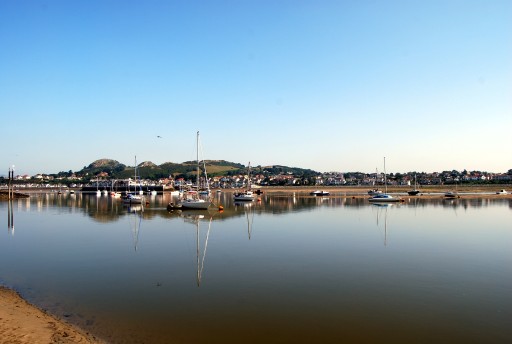 Early morning peace
Our Westerly Griffon edged over the A55 tunnel which is about the shallowest point in the channel. To our surprise, past Perch, well in the channel, at a point where we should have had plenty of water, the depth gauge suddenly dropped back from 2m to about 40cm as if we were going over very shallow ground. I looked nervously forwards and backwards to ensure that we were in the channel. About a minute later it happened again. It was only later that we deduced that these were probably shoals of fishies swimming up river to where we were yesterday, because that spot was now safe.
We started fishing from the stern, as there was little or no wind and we were bobbing up and down uncomfortably in the wakes of many large motor boats appearing to go for a lunch time Guinness in Dublin. As I prepared lunch, Timo sailed, fished and ate at the same time. But no fishies, as these were by now queueing for an ice-cream in Llanrwst.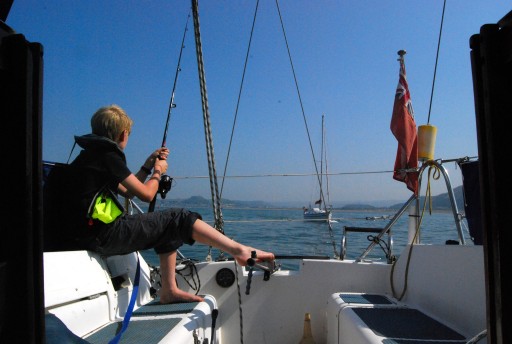 Multi tasking
However, the wind picked up and we had an fantastic sail in the sunshine around the bay. We practised man-over-board with the dan-buoy and made back for Perch at around 14:00. At around 15:15 we were back on the mooring and picked our stuff up as quick as possible to beat the traffic on the bank holiday. Everybody else had come up with the same plan. To avoid the A55, we took the Denbeigh - Ruthin - Wrexham route, only to be back at 19:00.