Saturday 22nd October
During a maintenance visit the weekend before, I struggled to get to my dinghy because the council had used the ground to put a very large tent ready for the Conwy foodfestival. That tent made it very difficult to get to my dinghy. The problem had not gone away when we arrived as this very weekend of the actual event. We decided to take the club launch instead.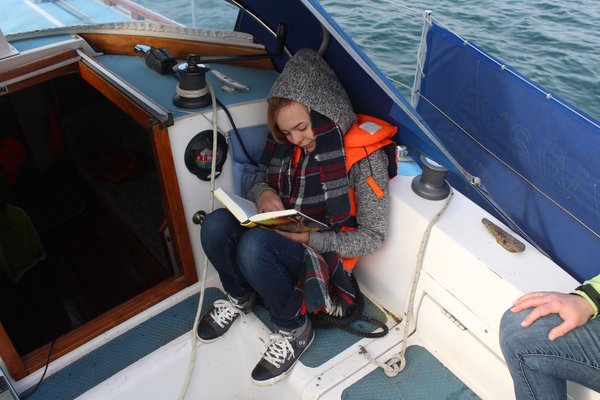 Meryl reading (how to sail in 60 minutes)
Somebody on the Jetty remarked that the food festival was a real odd event: you had to pay £8 per head to get in the tent where they were selling expensive food products which you could probably get much cheaper elsewhere. The stall holders would have to pay the Council for the priviledge and at the same time the Council was charging us sailors for the priviledge to store our inaccessible dinghies in the same location. What a scheme! Ok, we weren't heading there.
We were onboard at 14:45 and local HW was at 16:30 @ 6.8m. We headed out at 15:00 towards the Great Orme. The wind was a F1-2 from the East. The North Deep buoys had been relocated and I used the GPS to mark them when passing. The shallowest point was at 2.2m @ 6.6m of tide (and rising).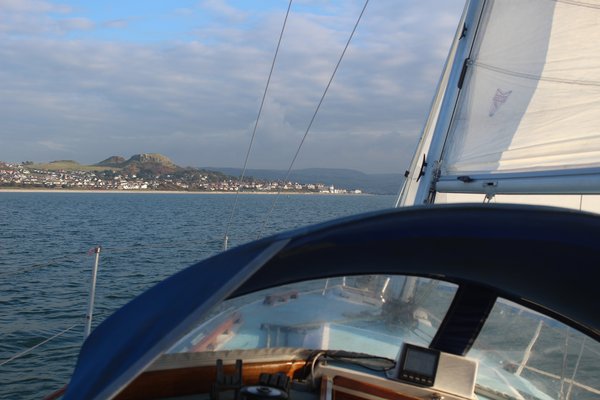 Returning through the North Deep channel (marking the GPS positiion of the buoys on the way)
Though short, it was a brilliant sail. Timo spend most time in his berth playing computer games, Meryl sat in the cockpit reading a book and Geke and I sailed and enjoyed the stunning views in the low sun.
At 16:00 we started to head back and got back to our pontoon at 17:00 after having sailed 5.9NM.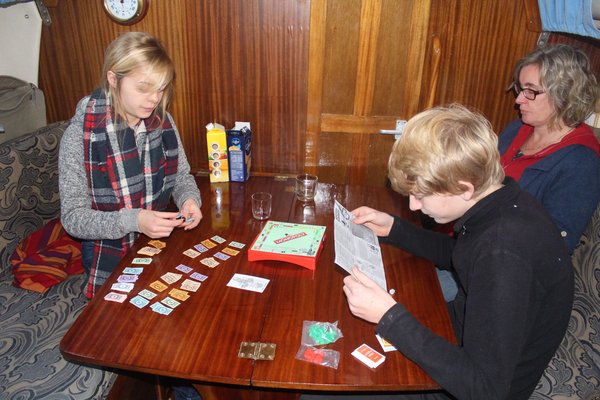 Preparing a game of monopoly
The evening was very pleasant with the heating on and playing card and board games together.