Do you remember having dreams where you need to go somewhere but no matter how much effort you put in it, you are not moving forward. After an extentive on-line seach I found what it means:
To dream that you are running in slow motion – or that you are trying to run but cannot make your feet move as fast as you want them to – signifies a lack of self-esteem and self-confidence on your part. (source).
It is an important to understand for the rest of this story that we have a boat with low self-esteem.
The N.W.C.C. had organised a trip to Liverpool to co-incide with the Liverpool Tall Ship Regatta 2018. My navigation maps finished just East of the Great Orme, so I ordered the missing maps and started planning the trip. The total distance was 40NM with the Rock Channel sand bar at 33 NM. It would have 3 m water at 19:00. Estimating average speed at 4 kts, we would have to leave at 09:30. Faster boats with 5 kts could leave at 12:30.
Obviously the distance of 40NM was assuming you sail towards Liverpool and not in the direction the wind dictates.
The forecast was light winds from the East increasing later in the afternoon.
I joined the club briefing on the Friday evening and motored on Saturday morning to the Conwy Quays where Geke and Timo would arrive around 09:00.
Saturday 26th of May
We left at about 09:34 motoring out through the North Deep, which made the depth gauge scream for a while as there wasn't much water. We crossed to deeper water with about 10 other yachts around us.
Geke steering Anyway while leaving Conwy
As the wind was directly from the East we sailed North. This is an excellent course for those who do not go to Liverpool. At least at that moment we were still amongst other yachts not-going-to-Liverpool and when we were quite far out I eventually decided to make a tack towards Liverpool. But with light winds, the current against us and a nasty swell, we made little progress. After another hour the the Orme was, like in the dream, still due South. We could not escape. All the time we had been motor sailing.
Then, after a VHF call to the sailing Captain where I expressing concern about lack of progress, all other boats started to move away from us in a North Easterly direction. I guess under donkey assistance but we were already running at 1500 r.p.m. and I wasn't keen to burn excessive amounts of diesel.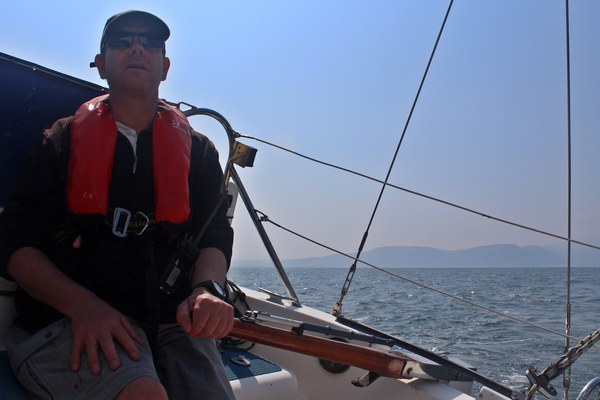 Heading North, the course not to Liverpool
At about 13:00, the Great Orme was still due South and after some family deliberation I called up the sailing captain again to announce we were heading back to Conwy. The GPS indicated ETA in Liverpool at 23:45. The minimum speed was calculated to be 4 kts. We were doing 3 kts. Only after LW at 16:00 the current would become favourable.
The Great Orme due East
I did not fancy entering Liverpool in the dark but I guess more decisive was sailing alone and not feeling well (no not sea sickness).
By the time we got back in Conwy bay is was 1 hour before low water. We scraped, with increasingly less margin over several sand banks. Scabs was just 10 cm clearance. So we decided to leave the channel and hit the banks.
Waiting for the tide
After 2 hours of playing guitar and board games the water came back and we slowly motored back into Conwy.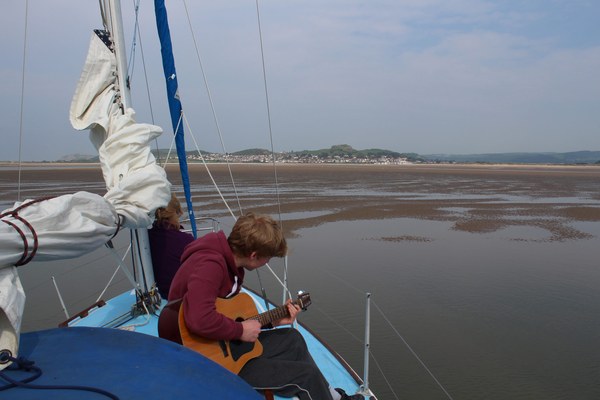 Musical entertainment
The wind increase was spot on. At 17:00 a stiff breeze from the East set in but we were luckily not hovering near Rock channel, waiting for water.
Playing games is what you do after you discover blisters on your fingers due to guitar playing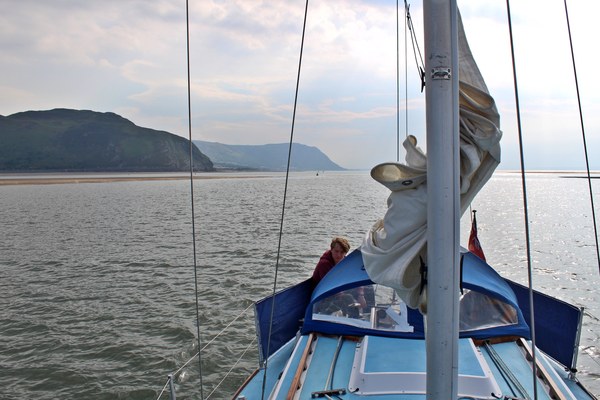 With just enought tide we motored back into Conwy
Sunday 27th of May
The next morning we decided to still head for Liverpool but use the train and car this time. Liverpool was not as busy as we expected and we were able to visit various tall ships with the French Belem being the most impressive.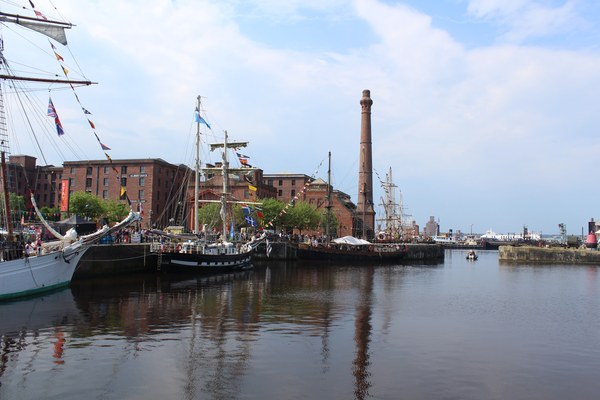 Albert Dock, Liverpool
After a wander through Albert Dock with the obligatory visit to the Beatle Museum we went back to Conwy.
Geke in charge of the French tall ship Belem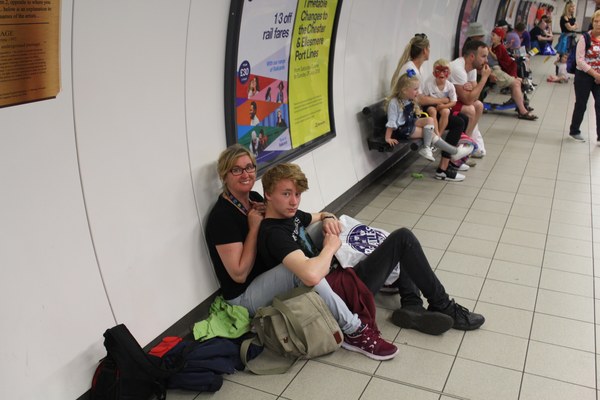 Waiting for the train instead of the tide
Monday 28th of May
Another day for a nice sail. With the wind from the same direction we headed again out along the Great Orme. There were only light winds, so I thought it would be good to explain to Timo what a gybe is and why it can be dangerous.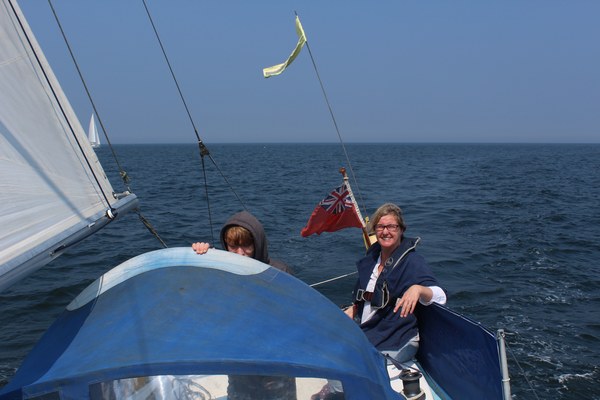 Out in Conwy Bay after emergency repairs.
So a smooth course change let the wind catch on the other side of the main sail. It came over fairly gently but decided to accelerate towards the end and it took the traveller off the stern. With the boom not held back by the main sheet it swung out wildly over the starboard side.
I pulled it all back in and used a spare line to attach the main sheet to the metal bar where the traveller had come off. Now anylysing it for the 1st time, it appeared that it had been modified and where one would expect 4 smooth running wheels, 2 had been replaced by hexagonal bolts. Now call me traditional, but wheels need to be round to

function properly. So that would be another interesting repair job.
We sailed back to our mooring and played a few more games and headed back home before the bank holiday traffic would hit the road.