Monday 25th Aug
We had time for a few days sail. Timo and I arrived on Sunday in Conwy and when I asked if he wanted to set off very early the next morning or late in the afternoon, the answer was early in the morning. Teenagers are not what they used to be.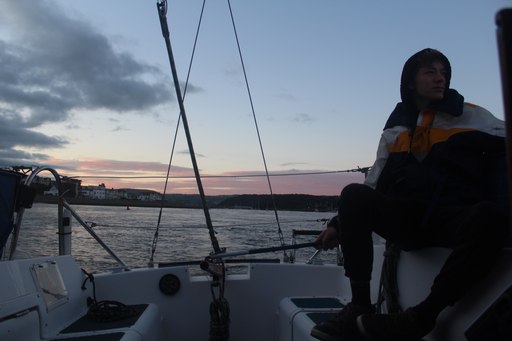 So we woke up at 05:45 and managed to cast off at 06:00, about 15 minutes before sunrise. There wasn't much wind and we motored slowly towards Puffin island.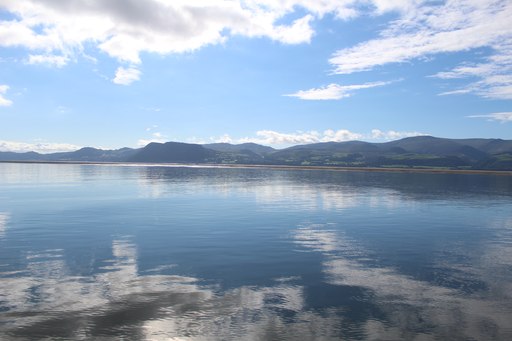 With the tide being out, we sailed around Puffin and into passed Trwyn Ddu light house at 08:15. It was low water in Friars road and we had to pick up a mooring at Beaumaris to wait for the tide to help us through the Menai Strait.
At 12:30 we left our mooring and sailed towards Menai. We were about 15 minutes early and had a smooth sail through the Swellies. Four boats followed us which is a good indicator that one hasn't made a nasty tidal calculation error.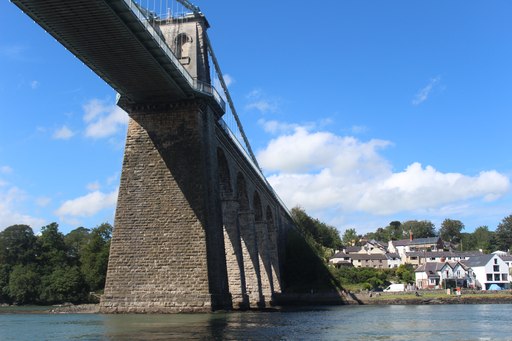 Port Dinorwic is only 3 NM from Menai and the lock gates were open. However, calling the lock master on the main VHF set failed, so I had to use the hand set instead. There is little room for turning one's boat in the narrow channel. We moored up right behind the lock.
We had sailed 19.4 NM from Conwy.
Then, while some us could relax, other had to revise for A-level exams.
We had kept an eye on the forecast as a big storm was coming in on Tuesday. We would stay put.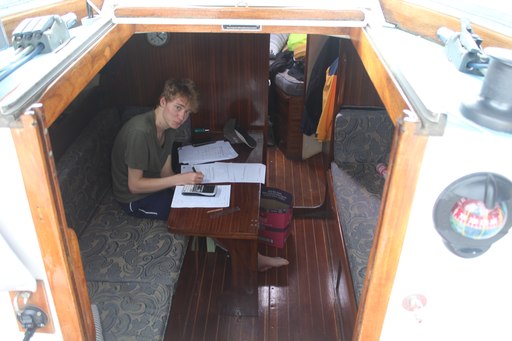 Tuesday 25th August
The baromic pressure dropped from 1000mb to 982 mb in a short time. And sure the wind increased drastically up to the point where the boat was rocking inside the lock. At high water, waves bashed over the lock doors and the freshly installed wind meter was reading a F6 while in the shelter of town.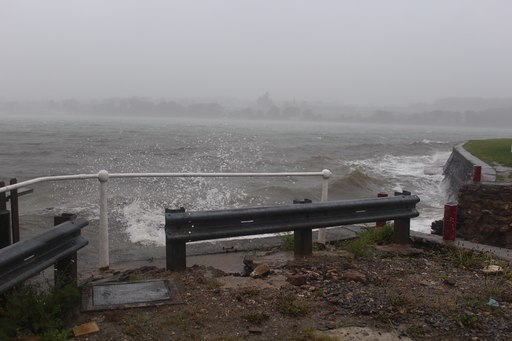 In the afternoon we dediced to go to the pub and it was the 1st time in my life that I walked through town in full sailing gear. We didn't get the feeling we were particularly welcome when entering in drenched waterproof clothing. We were the only customers.
Wednesday 26th August
The weather calmed down and we had to wait for high enough water to leave the lock. At 14:00 we waited for 5 other boats to leave with us. We had just 1 meter of water below the keel.
We sailed back through the Swellies and passed Beaumaris around 16:00.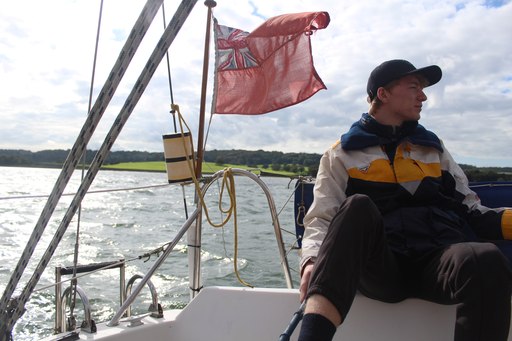 We had a good wind behind us most of the way and arrived in Conwy at 17:30.